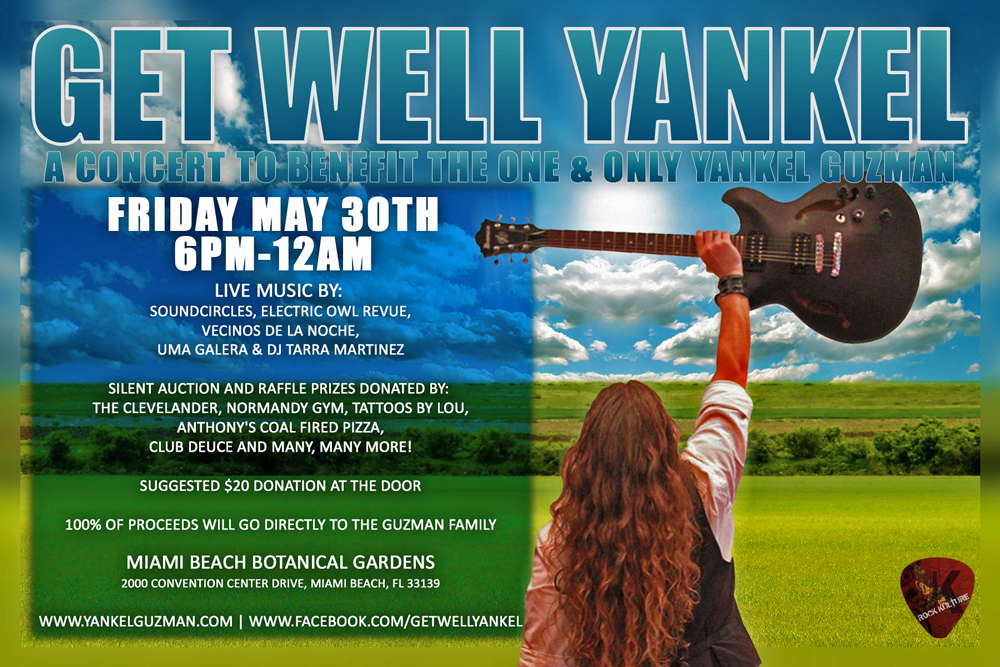 CLICK HERE TO CONTRIBUTE AND GET YOUR TICKETS! ALL PROCEEDS GO TO YANKEL AND HIS FAMILY.
Rock Kulture & Friends Present:
Get Well Yankel! A Rock-n-Roll Concert to Benefit The One & Only Yankel Guzman
Miami-based concert producers Rock Kulture, along with Friends & Family team up with Miami Beach
Botanical Gardens for a night of music and fun on May 30th 2014.
The concert will feature a lineup of local bands and artists uniting behind one of their own. Among the confirmed acts are Soundcircles, Electric Owl Revue, Vecinos de la Noche, Uma Galera and DJ Tarra Martinez. Additional entertainment, a silent auction and raffle will round out the evening. Proceeds from the event will go directly to the Guzman Family to aid with medical and rehabilitation costs. Get your ticket now by donating $20 or more on this page! Tickets will also be available at the door.
Yankel Guzman is a Miami Beach native, known to many as a talented musician, energetic MC and concert producer,suffered a massive brain aneurysm on April 15th due to an abnormal vein rupture and was rushed to Mt Sinai Medical Center. After several surgeries and tough fight Guzman was stabilized and the recovery process began. The severityof the aneurysm has left this enigmatic musician without the ability to speak, walk or move his right side and while none doubt his determination to make a full recovery, the process will be long and costly. Described as "one of the best human beings we know," by close friends and colleagues, Guzman is known to those in his community as a genuine, hard-working and intelligent man. "The kind of person who would give you his last dollar and then walk home without a second thought," says close friend and local celebrity Christie Ashenoff of South Beach Tow fame.