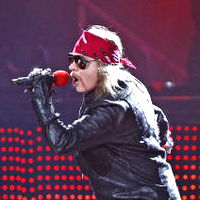 Break out your sweatiest bandana and stankiest pair of ripped jeans … It's time to get "intimate" with Guns N' Roses again.
Just three and half months ago, the Axl Rose Band, an arenaful of all-ages GNR groupies, and approximately 1300 Slash impersonators gang-sang "Welcome to the Jungle" while doing "The Snake" in a puddle of spilled beer and nacho cheese in Downtown Miami.
But already, Mr. Rose and his cronies are fiending for another round of rockin' and rollin' with our sweet, suntanned South Floridian asses. So they've announced "a rare intimate appearance at the Fillmore Miami Beach" on February 29.
This SoBe sesh is part of GNR's current Up Close and Personal club tour. And according to the official hype, "[With] the energy of Guns N' Roses exploding within the glorious confines of the acoustically superb Fillmore … It promises to be an awesome show."
Guns 'N' Roses. Monday, March 5th. Fillmore Miami Beach, 1700 Washington Ave., Miami Beach. The show starts at 10 p.m. and tickets go on sale at 10 a.m. on Wednesday, February 29, for $62.50 to $145.50 via livenation.com. Call 305-673-7300 or visit fillmoremb.com.
via Guns N' Roses Announces Concert at Fillmore Miami Beach on February 29 – Miami Music – Crossfade.