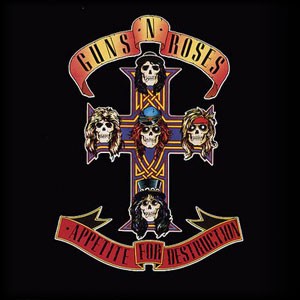 The classic lineup of Guns N' Roses will reunite for their induction into the Rock and Roll Hall of Fame in April. The band is being inducted along with The Faces/Small Faces, Red Hot Chili Peppers and Beastie Boys, among others, at the ceremony in Cleveland on April 14.
It's keyboardist Dizzy Reed who has said that all those who contributed to the band's seminal album Appetite For Destruction will be present.
Speaking to Billboard, Reed – who joined the band in 1990 after Appetite – and remains in the lineup to this day, said when asked who would be attending the ceremony: "I know that all the original band is going to be there. I don't know exactly what's going to go down. It's one of those things I'm sure will all come together and be really cool."
Reed added though that no talks had taken place about the band's classic lineup actually playing together on the night. He said he and frontman Axl Rose had not contacted former members Slash, Duff McKagan or Steven Adler about the possibility of performing together at the ceremony.
"Honestly, we haven't spoken about it. I don't know when or why or how to bring it up. It's not an everyday sort of thing. So we haven't really talked about it, but I'm sure we'll have to at some point."
Reed also said that he believed Guns' current lineup would continue to work on new material after a summer tour of Europe.
"There are some clamouring and rumours that we might be getting some material together here after we do this run, so we'll see what happens. There was so much material that didn't make it onto Chinese Democracy. From what I remember there were a lot of really cool songs. I can only hope that some of that stuff does resurface and get worked out."