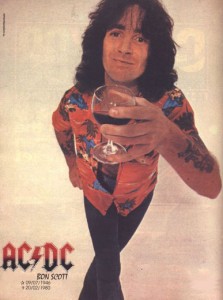 32 Years Since Heavy Music Lost AC/DC's Bon Scott!
32 years ago, the Heavy Music world lost the late great Ronald Belford "Bon" Scott. Scott was born on July 9, 1946 in Forfar, Scotland and died on February 19, 1980 in London, England, after a night of heavy drinking.
Scott will always be remembered for being the lead singer and lyricist of Australian Hard Rock band AC/DC. His tenure with AC/DC went from 1974 until his death in 1980. He moved to Melbourne, Australia with his family in 1952 at the age of six. His first band was The Spektors, he also performed with The Valentines and Fraternity before replacing Dave Evans as the lead singer of AC/DC in 1974.
Here are some facts about the late great Bon Scott:
– Scott's vocals were inspired by his idol, Little Richard.
– After working as a postman, bartender and truck packer, Scott started his first band, The Spektors, in 1964 as drummer and occasional lead singer.
– In 2004, Classic Rock Magazine rated as number one in a list of the "100 Greatest Frontmen Of All Time" ahead of Freddie Mercury and Robert Plant.
– When Bon Scott died after a night out in London. AC/DC briefly considered disbanding, but the group quickly recruited vocalist Brian Johnson of the British glam rock band Geordie.
via Horns Up Rocks: 32 Years Since Heavy Music Lost AC/DC's Bon Scott!.