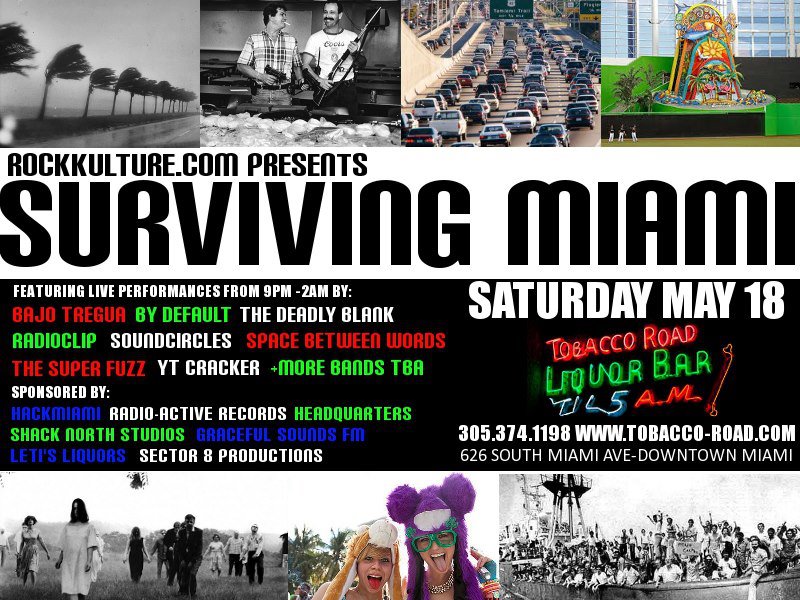 On Saturday, May 18, Miami's oldest bar, Tobacco Road, hosts the release of the Surviving Miami compilation album, a collaberative effort by over 20 of South Florida's finest independent recording artists.
The concert is set to begin at 9pm, and will feature performances by:
Surviving Miami: Volume 1 will be available as a free download beginning 5/18 on RockKulture.com, and features music by: Astari Nite, Bajo Tregua, Brand Name Punk, By Default, The Deadly Blank, Dear Darling, Falseta, Humbert, Inhabit, Juke, Lavola, The Livesays, Midnight Kahuna, The Nude Cap, Radioclip, Rebel, the Riot Act, Session Zero, 7 Seas, Soundcircles, Space Between Words, the Super Fuzz, Urban Rebel, The Vilifiers, and Vizeral.
Surviving Miami is proud to be sponsored by the 2013 HackMiami Conference, Radio-active Records, Headquarters, the Shack North Studios, Graceful Sounds FM, Leti's Liquors of Pembroke Pines and Sector 8 Video Productions.