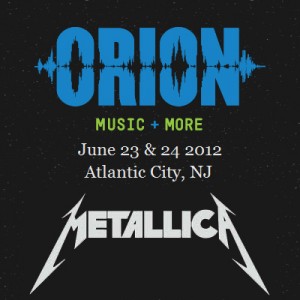 Orion Music + More
March 8, 2012
Take a look about an inch (depending on your monitor, mobile device, tablet, etc.) up on the home page at our brand spankin' new Orion news ticker… we're so excited about our upcoming festival, and so many new cool things will be added in the coming weeks, that we wanted to always have the latest news right here on top of Metallica.com.
If you click on the banner, you'll go right to the Orion Music + More site and see that a lot has happened since we last met in our online video announcement. We've added the Damage Inc. stage which will headlined by our friends Suicidal Tendencies and Sepultura and will feature lots of cool, heavy, thrash and punk bands that many of you have not had a chance to experience yet including Torche, Red Fang, Kyng, Landmine Marathon, and more. We've added to the current the line-up Eric Church, our 30th anniversary partner in crime, Jim Breuer and his Heavy Metal Comedy Tour, Wooden Shjips, and our other Fillmore buddies, the Soul Rebels… they'll be joining Arctic Monkeys, Avenged Sevenfold, Modest Mouse, The Gaslight Anthem, Lucero, The Sword, and many others all listed on the site. There is a lot more information for you about the festival in the new FAQ section, and an awesome new video to watch with clips from many of the artists who will be joining us in Atlantic City on June 23 and 24, 2012.
Finally, we'll make it easy for you to count the days to Orion Music + More with the handy count-down clock in the upper right corner.
Lots more to come… keep watching here and OrionMusicAndMore.com.