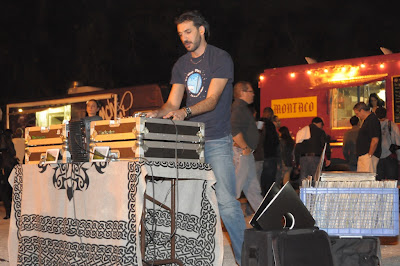 SECOND SATURDAY FOOD TRUCK FEST CANCELLED AMID CONTROVERSY
By Jared Goyette | March 8th, 2012 | No Comments
They'll be no DJs playing at the food truck lot this Saturday
The Wynwood Street Food Fest that occurs during Second Saturday Art Walk has been cancelled amid a storm of accusations between the food trucks operators and Brad Knoefler, the neighborhood activist behind Grand Central Park.
The City of Miami's code enforcement department informed the food trucks on Thursday that they could not gather in the lot at 2238 N.W. Second Ave. during art walk because they did not have the proper permits. The city's action came just hours after Knoefler emailed officials inquiring about the event's permit status.
While previous food truck gatherings during Second Saturday had the required "special use" permit, the lot recently changed hands, and the trucks were still in the middle of the permit process with the new owner, according to Richard Hales, a leader in the food truck community who operates the Dim Ssam a gogo truck and the Sakaya Kitchen restaurants in downtown and Midtown.
"We can't complain to the city," Hales said. "They're doing their job and we have to follow the rules like everybody else. "It's very unfortunate that a person who calls themselves an activist for the people… and is trying to promote development for the city, incites the zoning department to take action. It's not what we need to move forward."
Knoefler said it was not his intent to get the event shut down, but that he was acting to protect the "general community" and that he was"tired of illegal events," which he sees as dangerous for the participants and potentially harmful to the reputation of the area…. Read more
via Miami Second Saturday food truck fest cancelled amid controversy | Beached Miami.