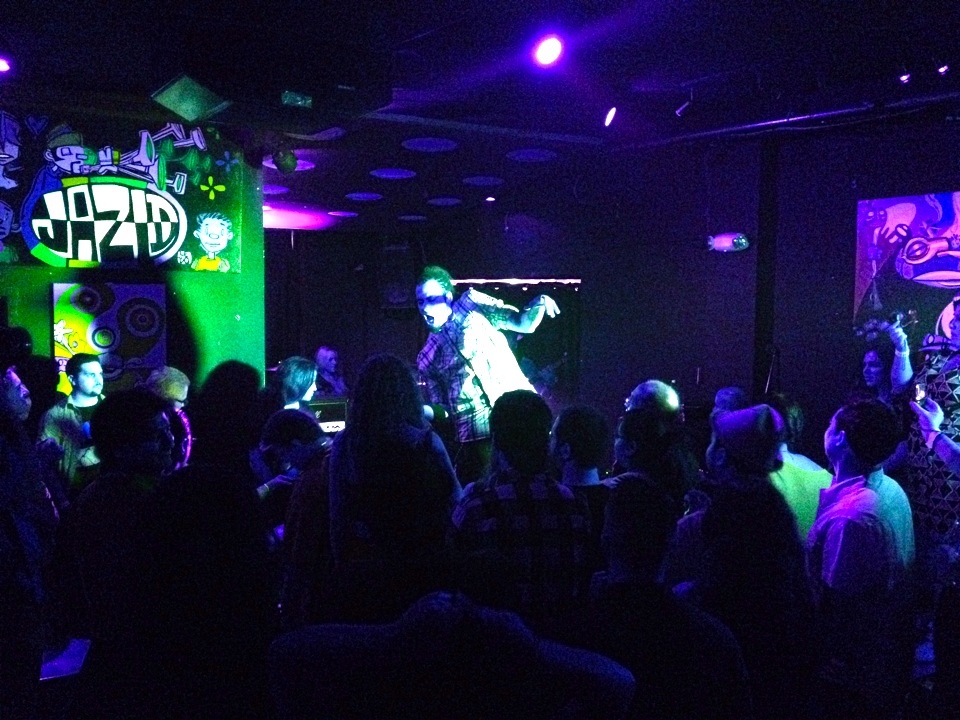 Rock Kulture's "Sobe Rock Invasion" Review
By: Nando Tats
'Twas just another night in Miami Beach, FL. Skanky outfits, extra small v-necks, shitty house music,overly priced tattoo parlors… Ahhhh, the glamour on Washington Avenue was flowing, and douche bags were flaunting their parents' Beemers to the best of their ability.Upon arriving at Jazid at around 10pm, I was greeted by Rock Kulture's Natalya and Alex. They were very courteous and helped each band finding their whereabouts. As musicians, our attention spam works a little something like this: "Can I park here? Can you watch my instruments? Is the bar open? Is that homeless guy, or is he in a band? Do they serve Ceviche here?". At least that's how my attention works…
The line-up for the night was as follows: Urban Rebel (Funk Deliciousness), BrandNamePunk (Pop/Punk Warriors), Dear Darling (Rock/Experimental Sweetness), Unmaskd (Rock / Alternative Sick Vocalistas), The Deadly Blank (Rock/Alternative Rawness), and The Nude Cap (Rock/Surf Drunken Good Time). The recipe was perfect; it was just what the live local music doctor had ordered.The crowd was settling in, and Jazid was becoming smaller and smaller. Drinks were flowing, cigarettes were being lit up and the mood was just right.
First up: "Unmaskd" – these dudes had their harmonies down to a science! The lead singer (Ju Rodriguez) looks like he could beat you to a pulp (which he probably could), but this dude had the most angelic voice. I hadn't seen them before; however I was very impressed by what I heard. Their lyrics were uplifting, and the music… the music was heavy boy! HEAVY!
Second on the bill: "Dear Darling" – I immediately fell in love with their lead singer (Dama Vicke)… sweet Indie/Experimental melodies with a twist of sexy. The whole band dripped in sexiness. The progressions were tight, and the crowd was feeling it. Maybe I'm wrong, but I heard Pink Floyd meets Bjork. Am I wrong? Catch them live and prove me wrong. I've been a fan of Dama since the Huma Rojo days, and she never disappoints.
Third band on the bill: "The Deadly Blank" – or as the band likes to describe itself "Vintage rock with a modern roll". That is actually a very accurate description. Think The Raconteurs meets Wolfmother.Think true rock-n-roll, think, think, think. Catch them live and prove me wrong.
Fourth on bill: "The Nude Cap" (my band) – the band that refuses to see babies vomiting on moneys. I can personally attest that this band is about partying and having a good time. Why not? So we got on stage, and couldn't see a fucking thing because of poor lighting, but mainly because we were trashed. Well, not all of us, but mainly me. All right, only me… So I put my guitar down, tucked in my vagina and rocked the fuck out of Jazid. We had fun, did you? Yes you did. We rule, the end.
Fifth on the bill: "Urban Rebel" – Trip 6, Lac, and E, blew the roof of Jazid! These guys (and lady) are no joke. Funk / Groove / Rock: think Primus nips RHCP in the butt, while fingering Rage Against the Machine. All was working in their favor. Great sound, lighting, stage presence, and a very VERY precise tight set! Their special guest David De La Fe (a.k.a Freak, a.k.a Gracious Nipples) did not disappoint either, making an appearance in a few of Urban Rebel's tunes. David has been a musician for the best part of his life, and it shows. Their guitarist for the night (whose name I've seem to have forgotten)brought it all together with only a few rehearsals, but just as tight as the other members in the band.
Last, but not least on the bill: "BrandNamePunk" – Now, this is the sound and attitude you want booked on your shows. Not only are Ricky, Marjorie, and Andy great musicians, they're also a fun loving bunch.Their precise "brand" (get it?) of Pop/Punk puts New Found Glory, Green Day, Blink 182 to shame!Check out a little video called "Hopes and Dreams" where BrandNamePunk kidnaps Kristen Stewart (Twi-twat), and make her their love slave. Highly recommend you catch them live!!
So, will you be attending the next Rock Kulture event? Will you pay more attention to the bands mentioned above? Will you like this review? Was any of this offensive? Do you want to make love to me? Tu quiere Taco Bell?
I wrote this in a hurry without a spell check… so bring on the grammar police. I'll have all your corrections and complaints filed under me nutsack.
Sincerely,
Your Nude King.
– Nando Tats
***************SUPPORT THE LOCAL MUSIC/ART SCENE OR DIE**********************