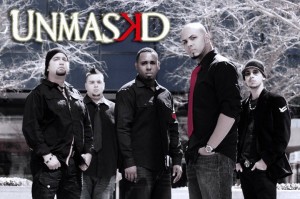 UnMasKd is a five piece rock band from South Florida that features an enthralling unique sound that could be described as cinematic, energetic and captivating to people from all audiences. Coming from a long path of victories and defeats the band still believes their journey is far from over. UnMasKd truly breaks new ground with their new musical ideas and strong powerful lyrics determined to make a new face in christian rock! Determined to heal a world that has been hurt, Unmask'd brings forth deep, passionate, heart-healing, breath-taking lyrics that are guaranteed to leave you UNMASKD!!
Members:
Ju Rodriguez – Lead Vocals
Alex Pichardo – Guitar
Luis "Luigi" Lopez- Bass
Kris Cooper – Drums, Scremo Vocals
Danny Lopez – Keys and Synths
via Unmaskd Music.