By Chantale Glover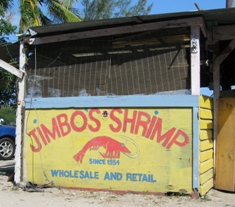 Jimbo's Place, a landmark Virginia Key fish shack and watering hole that had fallen on hard times in recent years, was closed Monday by the city of Miami.
The closing came at the request of Gail Araujo, representing the owner, James "Jimbo" Luznar, the city said.
Araujo, Luznar's daughter, asked the city to secure the site to keep the public out while the family removes mementos and belongings, the city said.
Jimbo's lured visitors with its shrimp and affordable ice-cold beers since the early 1950s. Over the years it has served as a backdrop for movies and television shows from Flipper in the 1960s to Dexter today.
But its power was cut off after a December 2009 electrical fire. Jimbo's remained open on generator power, and customers could still sit outside enjoying the shrimp, smoked fish and cheap beer that were the mainstays of Jimbo's menu.
Araujo made the final decision to close Jimbo's. She told The Miami Herald last week that stress related to the lack of improvements at the site had caused health issues for both her parents.
via Virginia Key landmark Jimbo's closes for good – Key Biscayne – MiamiHerald.com.